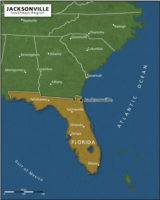 Jacksonville is the largest city by area in the continental United States and one of Florida's most populous cities, with more than 1.3million residents. Jacksonville is located in the First Coast region of northeast Florida and is centered on the banks of the St. Johns River, about 25 miles south of the Georgia border and about 340 miles north of Miami.
Conveniently located within the Southeastern United States, the area is 300 miles from Atlanta. Jacksonville International Airport (JAX) offers 200 daily arriving and departing flights to various destinations across the continental United States and the Carribbean.
A major deep-water port, Jacksonville is home to two U.S. Navy bases and the Port of Jacksonville, Florida's largest seaport. The local economy includes banking, insurance, and healthcare, as well as healthy manufacturing and distribution sectors.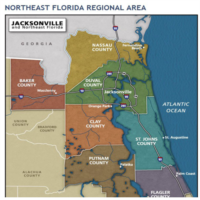 Rich in history, the area was originally inhabited by the Timucua people, and in 1564 was the site of the French colony of Fort Caroline, one of the earliest European settlements. St. Augustine, the oldest continuously occupied city in the continental United States, is considered the southern border of Florida's First Coast, and Fernandina Beach and Amelia Island comprise the northern border.
Each of the counties that comprise the area have cities and neighborhoods with their own unique feel. Duval County has the Beaches area, Downtown Jacksonville, and the more-rural Westside. Clay County's Fleming Island and Orange Park are popular with families. And St. Johns County has both the fun and funky St. Augustine and some of the nation's most affluent homeowners in Ponte Vedra.
Eagle Harbor at Fleming Island
Eagle Landing at Oakleaf Plantation
Contact Us for more information or a personal tour of these and other master planned communities.