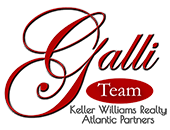 We're Growing Again!
The Galli Team, one of Jacksonville's top real estate teams, is seeking a professional to join our busy team!
BUYER SPECIALIST
The Galli Team, is seeking an experienced real estate agent to join our busy team as a Buyer Specialist! The ideal candidate will be a full-time, committed professional that is outgoing with a strong desire to succeed in today's competitive real estate market. We provide excellent leads, strong leadership, and coaching to set you up for success!
We also have an entire Marketing and Support staff that will provide you the tools that are vital to winning and allow you to stay focused on your clients! We take care of the details; you take care of the relationships! We also offer a Flexible schedule!
The position is Commission based with bonus plan. We take care of most of your expenses! All we ask is that you have a reliable, professional vehicle and a great attitude!
Take your career to the next level by becoming a member of The Galli Team! Please email your resume to GalliTeam@comcast.net.