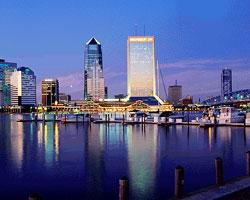 Jacksonville is a rapidly growing metropolitan city in Northeast Florida, with approximately 850,000 residents. Because of it consolidated city-county government, it is the largest city in area in the United States and Florida's most-populous city proper. Located just north of St. Augustine, the area is one of the nation's oldest continually-inhabited areas. It has a distinguished history of military and economic significance.
Due to its convenient location, mild climate, reasonable cost of living, high quality of life and a business-friendly government, Jacksonville is a popular location for many national and international corporations. It is recognized as a major transportation hub; millions of tons of raw materials and manufactured goods move through the city annually.
One of Jacksonville's many natural assets is one of the largest urban park systems in the country. The active and passive parks and preservation lands are a key part of Jacksonville's quality of life. So are the miles of beaches and waterways, a major symphony orchestra, a sports and entertainment complex downtown and a myriad of special events that this sports-loving city hosts each year. The home of the NFL's Jacksonville Jaguars, the city welcomed its first Super Bowl in 2005.
With a growing population, a strong economy, diverse cultural and recreational opportunities and abundant natural resources, Jacksonville continues to distinguish itself as one of the nation's most dynamic and progressive cities.
Jacksonville has a variety of homes and neighborhoods to suit every taste and budget. Below is a brief description of Jacksonville's communities, neighborhood by neighborhood.
Arlington
This community has abundant waterfront property, surrounded by the St. Johns on the west and north and the Intracoastal on the east. Fort Caroline National Park overlooks the site of a former colony of French Huguenots. Jacksonville University, Jones College and a small airfield are located in Arlington. There are many apartment complexes; homes come in all styles and price ranges. Arlington has easy access to schools, churches and downtown.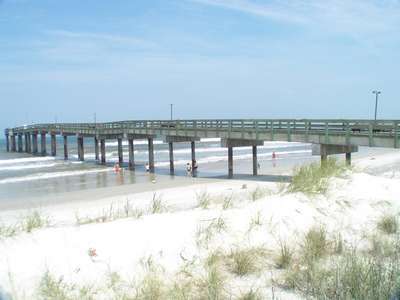 Beaches
Jacksonville's beach communities are comprised of Atlantic Beach, Neptune Beach, and Jacksonville Beach. Located within one of the fastest-growing metropolitan areas in the country, beach residents enjoy all the amenities and modern infrastructure of a large city and all the hospitality of a small hometown.
All three beaches offer a diversity of neighborhoods, each with a unique coastal Florida personality. Atlantic, Neptune and Jacksonville beaches are bordered by the Intracoastal Waterway and the Atlantic Ocean. Atlantic and Neptune beaches are made mainly residential with single-family homes and public beach access. Look for entertainment, shopping and dining along Atlantic Boulevard and A1A. Jacksonville Beach is further south and offers a mix of residential, commercial, retail and light industrial sites.
With miles of white sandy beaches and a mild, breezy climate, residents and visitors enjoy year-round golfing, boating, fishing, tennis, and other outdoor sports. A variety of festivals offer music, food, and fun throughout the spring and summer. Although tourism is a major economic generator, there are no spring break crowds at Jacksonville's beaches, only family-oriented tourism which includes events like Friday night Moonlight Movies and the Summer Jazz Concert Series.
Although Atlantic Beach, Neptune Beach, and Jacksonville Beach are part of Duval County's consolidated government, the three beach cities voted in 1968 to maintain their own identity and city governments. Each beach city has established a government that includes a city manager, a mayor and a city council.
Mandarin
Primarily rural until the end of the 1960s when developers discovered this area, Mandarin has grown steadily since. The Mandarin Community Club works diligently to maintain the community's architectural integrity. Mandarin is rich in history, and for years different preservation groups have sought to maintain that history either in family holdings, trunks, church and school archives or through Mandarin Community Club involvement. Mandarin homes range from estates on the St. Johns River to small country homes with stables.
North Jacksonville
North Jacksonville runs roughly from 20th Street north to the county border and from Interstate 295 on the west almost to the Atlantic Ocean. This is a vast area with waterways, new housing developments, and attractions, including the Anheuser Busch Brewery, the expanding Jacksonville Zoological Gardens, Huguenot Memorial Park and Little Talbot Island Park. Growth is due in part to the opening of the Dames Point Bridge in 1989, the expansion of the airport, and business activity in Imeson Industrial Park and the International Tradeport. North Jacksonville has convenient shopping, restaurants, medical facilities, schools, churches, and residential communities, and is only minutes from Downtown.
Ortega
Bordered on the east by the St. Johns River, to the north and west by the Ortega River and south of Riverside, this community is a peninsula on the river. Convenient private schools, area churches, and small parks along the river contribute to Ortega's charm. The Florida Yacht Club and Timuquana Country Club offer private social and recreational opportunities. Worth Magazine ranked Ortega 46th among the nation's top 50 wealthiest neighborhoods. The area offers just about any style of architecture and homes range in size from average sites to stately, sprawling estates. The 1920s Ortega River Bridge is one of the oldest functioning drawbridges.
Riverside and Avondale
This community is bordered to the west by Highway 17 and the river to the east, between Interstate 10 to the north and the Ortega River to the south. These are well-established, historic neighborhoods on the west bank of the St. Johns River. There are five public schools located within walking distance of both neighborhoods. Riverside has become an attractive spot for young professionals who want a short commute to work. Homes include modest duplexes to elegantly restored historic residences and waterfront estates. Riverside is a medical hub with the St. Vincent's Medical Complex and private medical offices scattered along the river. Avondale is a traditional neighborhood with small boutique-type shopping, quaint streets and small-town charm. There are over a dozen parks with tennis courts, softball fields, and paths for jogging, walking or biking. Its close proximity to downtown makes it a great location for short commutes.
San Jose and San Marco
San Jose and San Marco are bordered to the west by the St. Johns River and by U.S. 1 to the east. A popular area for young professionals, San Jose and San Marco are close to the river and downtown. The area features boutique shopping and entertainment in San Marco Square, and private country clubs and private schools along San Jose Boulevard. Spanish architecture is most common in this area. A number of public schools are within these neighborhoods, enabling students to walk to school.
Southside
Centrally located, the Southside is bordered by Arlington to the north and east, St. Johns County to the south and San Marco and I-95 to the west. This is literally the southernmost area of urban Jacksonville and is in the middle of all other Jacksonville communities. Southside has the area's largest grouping of apartment communities. Many new developments are less than a year old. Commuting, shopping and recreation are convenient. Housing includes single-family homes, condominiums and apartment complexes. Residents enjoy local golf courses, abundant dining and entertainment, and easy access to the beaches via J. Turner Butler Boulevard.
Springfield
Downtown and Springfield offer opportunities for entertainment and the convenience of living near Jacksonville's business district. Downtown's borders are the St. John's River to the south, the Stadium District to the east, I-95 to the west, and 1st Street on the north. Historic Springfield is bordered by Hogan's Creek at the south, railroad lines at the east and north and Boulevard Street at the west. Springfield, founded in 1869, is Jacksonville's first and oldest subdivision. Its wide streets and blocks of architecturally distinguished houses have acted as a catalyst to preserve and revitalize the neighborhood.
Westside
The Westside is a large community starting just north of I-10 to Clay County, bordered on the east by I-295 and stretching west to Baker County and east to Riverside. Four small incorporated towns make up the Westside: Baldwin, Marietta, Maxville and Whitehouse. Other neighborhoods on this side of Jacksonville are Ortega Forest, Ortega Hills, Argyle, Lakeshore, Venetia, Cedar Hills, Hyde Grove, Murray Hill and Normandy. Much of the area is wooded, offering hunting and outdoor activities. Both NAS Jacksonville and NAS Cecil Field are located here, as well as Herlong Airport, a small, general aviation fixed base operation. Homes and apartments are available in all sizes and price ranges.
For more information on Jacksonville and Duval County, request our free Relocation Information packet. It's full of useful information about your move to Jacksonville and Florida's First Coast.
Neighborhood information courtesy of Jacksonville Regional Chamber of Commerce