Customer Testimonials
There are many things we can say about the high quality of service we provide to my home seller and home buyer customers, but probably none would be as credible as testimonials from our clients themselves.
So please, take a moment to watch and read the following testimonials. (There are more on our YouTube channel, as well.) We hope they indicate the experience, integrity, and success the Galli Team has, as well as make it clear how much we enjoy helping people with their real estate needs.
---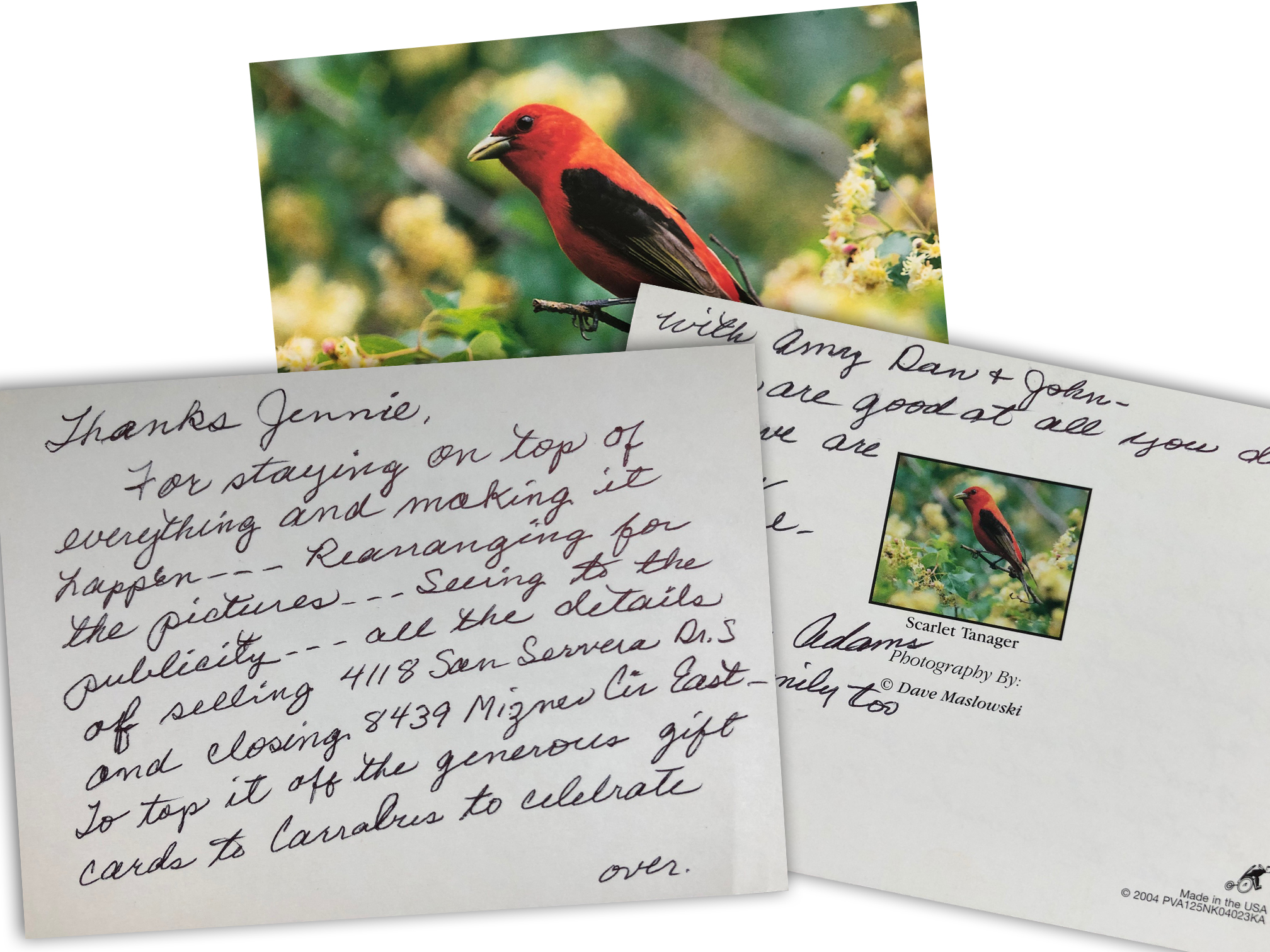 Elaine Adams

"Thanks Joanne and Jenni, for staying on top of everything and making it happen. Rearranging for pictures, seeing to the publicity, and all the details of selling 4118 San Servera Dr. S. and closing 8439 Mizner Cir. East. To top it off, the generous gift cards to Carrabbas to celebrate with Amy, Dan and John.
You are good at all you do. And we are so very grateful. Love, Elaine Adams and family too."
Pam Haagenson

"Our home got listed on a Tuesday, got an offer on Wednesday and accepted that offer on Thursday! In just 3 days!!! The ease and speed with which our house sold was completely and utterly painless thanks to the Galli Team. Thank you Jenni!!!"
Bruce Tague

"The Galli Team worked hard to move the house. And she went out of her way to keep me in the loop as I was out of town."
Ernie Ducharme

"Jenni Galli is top drawer, an extremely trustworthy,energetic and hard working real estate agent. She helped us buy a home in Fleming Island FL. by long distance as we lived in Ellijay GA. Jenni is attentive and responsive and she worked tirelessly for us until we found the home we purchased. She LOVES what she does and she thrives on the joy of finding that right home. You will not go wrong with Jenni Galli as your realtor."



John Pease

"Jenni made selling our home the easiest process. She was available to answer questions at any time (she even picked up the phone to answer my question while she was out on her Valentine's Day date). I felt like she was attentive and cared for my needs and concerns and at times she made me feel like I was her sole customer even though I knew she was busy at showings and closings. The Galli team made my life easier by being by my side every step of the way. We had buyers in less than 3 days and closed in less than a month.Thank you so much for everything Jenni! If you're planning to buy or sell in the Jacksonville area, Go with Galli! 5 Star Service"



Mark & Kimberly Hutchinson

"The Galli Team is "awesome! A dream come true!"



Issac & Alicia Medina

"Thank you so much for helping us to sell our house quickly!"



Rich and Beth Zerkowski

"The Galli Team went above and beyond what was required of them. They made the impossible happen with a tricky closing and never once made us feel like we were demanding too much. They simply smiled and jumped right in. Thank you!"



David Marshall

"Great Service!"



Linda Flad

"The Galli Team is excellent with keeping me informed and with their marketing skills."



Karl Bolt

"Jenni and Sharon are FANTASTIC!"



Warren Zwanka

"Jenni's professionalism and work ethic are outstanding, and she has definitely earned our endorsement."



Steve & Mary Strickland

"Thanks for the hard work from you and your awesome team. You exceeded our expectations and are a pleasure to work with."



Reanita & Bedford Davis

"We feel so blessed to have such professional people helping us during this exciting, but very difficult, time. We highly recommend The Galli Team."



Jill Colvin

"Outstanding! From our first meeting with Jenni to our closing, our experience was exceptional. We would highly recommend the Galli Team! Thank you all for your wonderful service"



Theresa & Harry Coram

"The Best!! Super! Wonderful!! The entire Galli Team was the BEST, most professional, TENACIOUS team I have ever worked with and will highly recommend them to everyone!"



Belva Wilder

"Thank you to Jenni and her team for doing a great job and always keeping me informed. They were always available 24/7 and I appreciate everything the Galli Team did to help me sell my house. I would whole-heartedly recommend the Galli Team to anyone - they were so kind and thoughtful!"



Jean Wentworth

"Extremely efficient, pleasant to work with, very knowledgeable, and very dedicated! From the moment I met Jenni Galli, I knew I was in good hands. We found a house 2 days because Jenni knew instinctively what we were looking for. Jenni and her team made the closing process so easy and I would recommend them for any real estate need!"



Richard & Jeanne Long

"Overall: knowledgeable, efficient, and pleasant. Thanks Jenni! You did a great job!"



Jeff & Sarah Clarke

"Jenni was very professional, unbiased, and reliable during the entire process of selling our home. The Galli Team was efficient, friendly, professional " knew our area really well which helped to sell the house."



Georgia Roberts

"Overall great experience!"



Jeff Greenberg

"Everything was handled in a professional manner and all my requests or questions were answered in a timely manner. I will highly recommend the Galli Team to all friends looking to sell a home. Thanks Jenni & team!"



Sally Fox

" I can't think of anything but positive things to say about the Galli Team - from the very beginning, Jenni went out of her way to give me the space I needed while still staying in close touch at my convenience. I honestly have no criticisms or negatives at all - the entire experience has been very positive and pleasant! Also, Jenni totally set me up with Pamela at Wachovia who was just as efficient and accommodating as Jenni. I just feel that I really lucked out by choosing the Galli Team. My mother was the Broker of a large real estate agency in Savannah for 26 years, so I had high expectations - and if I hadn't been pleased, I wouldn't hesitate to say so - but I have nothing but good things to say! Thank you all for everything!"



Brad & Kathy Comstock

"We were impressed from the first time we met our agent, Jenni Galli and were through the entire process. Her as well as the team were wonderful to work with and made the process very smooth. We have recommended them to friends, family, etc. and will continue to do so".



Kim & Travis Homewood

"Jenni Galli is everything a realtor should be and more! She truly listened to our wishes and tailored our search to meet those desires. Her hard work before our arrival maximized the use of our limited time. Her honesty and integrity were very comforting throughout our long distance purchase. Jenni was a trusted advocate by staying involved throughout all aspects of the transaction and keeping us well informed. Her superior customer service did not stop even after the purchase was completed. "



Henry Blackstock

"My experience with Jenni Galli was good. She went the extra mile to answer my questions and take care of my requests. I would recommend her services to anyone I know looking to buy a new home".



Chris & Stacey Pyle

"Jenni was very helpful and knowledgeable in helping us find the right home that fit our price range, lifestyle and location requirement. She communicated effectively with emails, faxes, and phone calls at all hours working tirelessly to make buying our first home as trouble free as possible".



Damien D'Anna

"Jenni Galli was extremely helpful throughout every step of my home buying experience. Having a qualified real estate agent saved me time and money".



Nicole Haagenson

"Working with Jenni Galli and her team has been quite refreshing. It is rare to find individuals that are dedicated to ensuring that they are reachable. Most of my follow up calls were answered with a pleasant, "This is Jenni Galli", as opposed to a voice mail message or an answering service. The promptness, precision, professionalism, and thoughtfulness of this team is unbeatable by any comparison. As a first time buyer, Jenni took additional time to ensure I understood what was to happen next. Her keen negotiation skills also saved me a lot of money and earned her the nickname, the "Magic Maker". It was a pleasure working with Jenni and her team. As such, she will receive the highest compliment I can give. My brother will be seeing her in the near future to purchase a home of his own".



Saffron Algozzini

"Jenni was very helpful and really cared about our actual purchase. She went above and beyond her job description".



Adam & Jennifer Light

"Mrs. Galli was great! She was very informative and pleasant thru this whole process. We would recommend her services to other people. Thank you!"



Tom & Peggy Grimm

"Awesome service and attention to detail!!"



Nancy Heath

"I was really pleased with Jenni. She was very informative and kept me updated on everything. She worked very hard and was very aggressive in marketing and advertising my home. She was always pleasant and made me feel I could relax while she did all the hard work. I found the experience of selling my home a very enjoyable one " not stressful at all. I had no worries or concerns during the whole process. I had total confidence and faith in my realtor in getting me a fair price " which she did! I would use her again if needed. She was terrific. No complaints from me!!!"



Marti and Travis McKee

"From the beginning, Jenni presented a clear. concise marketing strategy to sell our home. She has successfully implemented that strategy, and our house has been shown to prospective buyers many times. Jenni constantly provides feedback from the buyers and other realtors so that we can make our house even more marketable. She has hand delivered fliers to many neighborhoods, as well as conducted email blasts to her contacts. We have enjoyed working with Jenni professionally and personally, and would recommend her to anyone".



Nicole Collins

"Jenni was a great help and walked me through every step. When I first started thinking about buying a house, I was not going to use an agent; I am so glad I found Jenni because I never would have gotten through this without her. Thank you Jenni Galli for all your help with my purchase of my first house and I will be telling anyone I know that is in the market to buy a place you are the best!"



Joanne Griffin

"I have known Jenni Galli professionally for over five years. Jenni"s strong drive for success, attention to detail, and follow up will make her an excellent choice as your realtor".



Sarah Mills

"It was truly a pleasure working with the Galli Team. As a first time home buyer, I was very nervous as well as indecisive. Jenni was extremely patient and took the time to walk me through the process from start to finish, as well as answer my many questions. It took two meetings for Jenni to pick up on my personal style. I was so relieved because it made finding the right house quick and painless. I remember when Jenni found the house that I ended up purchasing. She called me while I was on my way there and said, "You are going to love this house." She was right! I walked the house twice, put in an offer, and the rest is history! I will definitely use Jenni for future sales and purchases."



George & Bobbie Wilcox

"We were referred to Jenni Galli through a friend who worked in another Keller Williams office and boy were we incredibly lucky. We had never been to Jacksonville before. On our first visit, she gave us a city tour to familiarize us with the area. That was so helpful because when we came back a couple of months later to buy, we knew exactly where we wanted to live. Before we came she sent us emails of the different house she w"as going to show us, then she previewed them to weed out the undesirables. This was very helpful because it saved us some time because we were only going to be in town for a few days. We are first time home buyers and she was incredibly helpful with the buying process. She was just great. Once the house closed she still continued to help us with any questions we had regarding the area. We were so lucky to get referred to such a great realtor. Thanks for all of your help, we couldn't"t have done it without you!"



Kenneth & Gail Davidson

"We could not have asked for better service. Jenni and her team did an excellent job for us!"



Jared & Amy

"We had a great experience and would recommend The Galli Team to anyone!"



Daniel & Larissa Nash

"Jenni and her team were absolutely perfect. We could not have chosen a better company. Thank you!"